EFS Shocks
EFS provide a range of affordable, quality shock absorbers to suit all types of 4WD, whether you are an on-road only user, off the beaten track tourer or serious offroader. EFS Shock Absorbers are vehicle and height specific. "Not a one shock suits all approach".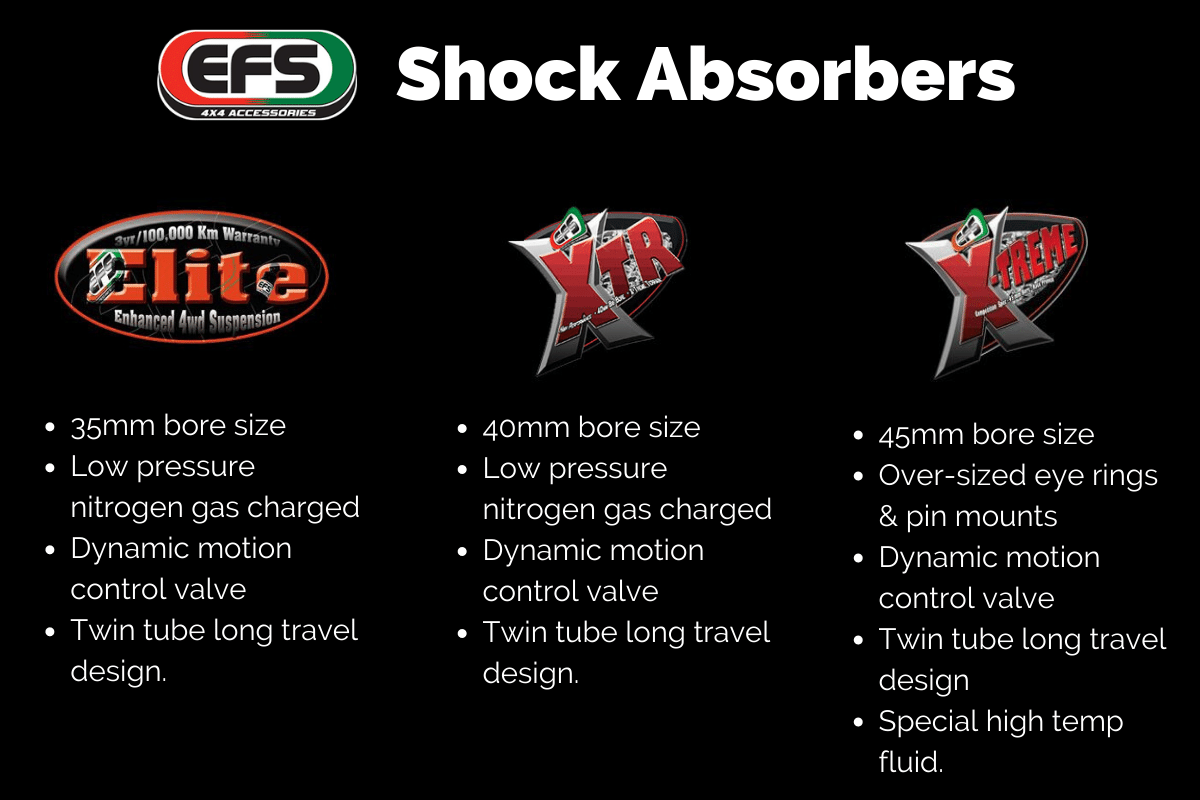 General Specifications
Long Travel Design - Maximises wheel articulation 
Twin Tube Construction - Increased control of the spring during rebound and compression cycles
Quality Hardened Chromed Piston Rods Longer service life, and greater lateral strength
5mm Outer & Inner Wall Thickness Greater durability and strength
Dynamic Motion Control Valve - Adjusts to different road & off road conditions
Polyurethane and rubber bushes – High quality elastomer and rubber mounting bushes to suit specific applications
EFS Coil Springs
EFS Coil Springs are manufactured under a strict quality control system with the use of quality Spring steel. This ensures you are purchasing a high-quality product that is backed by a three year/100,000km warranty.
EFS Coil Springs are produced in a variety of raised heights, from standard to 125mm and also a variety of spring rates to suit different applications - Towing, load bearing accessories, increased ride height and off-road competition.
Specifications
Shot Peened - To stress relieve the outer surface of the Coil, so the Coil can operate under higher fatigue & repeated load conditions to ensure longevity.
Scragged for Quality Control -This is a process where the Coil is compressed beyond its yield point; this compression will set-up residual stresses and increase the elastic limit of the spring.
Powder Coated - To resist corrosion & to protect the spring steel from minor damage.
EFS Leaf Springs
Transform your rigid leaf sprung vehicle into a comfortable off-road performer with EFS leaf springs. Designed as a comfort leaf spring that incorporates special features that give the driver a comfortable ride on road and increased control off road, along with increased articulation and clearance.
Specifications
Manufactured from high-quality grade alloyed carbon spring steel
Tapered Leaf Ends to reduce the inter-leaf friction and to improve pressure distribution in the load bearing area
Bolt Clip Liners to reduce noise and friction
Inter-Leaf Graphite Coating and Leaf Insert Pads to further reduce friction
Shot Peened & Scragged Tested to reduce stress and promote longevity
Bolt Clips & Military Wraps to prevent leaf spread and provide safety
Warranty - 3 year / 100,000 Km Warranty
Available in 30mm to 80mm raised heights with a slight increase in spring rates over the original equipment.
EFS Torsion Bars
The EFS Torsion Bar is increased in strength by 25% to 30% over the standard O.E Bar. EFS Torsion Bars will provide you with increased handling and response from your vehicle and compensate for extra loads.
Specifications
Pre-stressed for longevity and durability
Increased spring rate to compensate for load bearing accessories
Made from High Carbon Alloy Steel (XK-5160)
Bars feature machined splines, bar peeled and rolled to ensure strength & reliability.
Fitment
The ends of all EFS Torsion Bars are painted with a colour code, when fitting these Bars the following applies: Green to front of vehicle, Blue to left & Red to right.
EFS U Bolts
Made from quality carbon steel with rolled threads to increase strength due to uniform grain finish and powder coated for protection against corrosion.
Deep nuts are supplied for safety and strength with flat washers to provide a smooth contact surface area to reduce plate friction.
EFS Bush Kits
EFS Polyurethane Bushes are made from high quality elastomers which gives the EFS Polyurethane Bush a high isolating strength and durability. EFS poly bushes have an elastomer rating of 80 Duro to give improved suppleness and grease channels for increased distribution of lubrication properties.
EFS Panhard Rods
The EFS adjustable Panhard Rod corrects the lateral location of the diff and centralises the diff location. When a 4WD is lifted beyond a certain height the diff is pulled across by the standard panhard rod.
EFS Panhard Rods are made from high strength steel with high performance polyurethane bushes.
EFS Shackle pins and swing shackles
EFS Shackle Pins and Swing Shackles are engineered to be stronger than the original equipment and greaseable for ease of service.
The products are then case hardened and gold cadmium plated or black oxided for increased strength and corrosion protection.