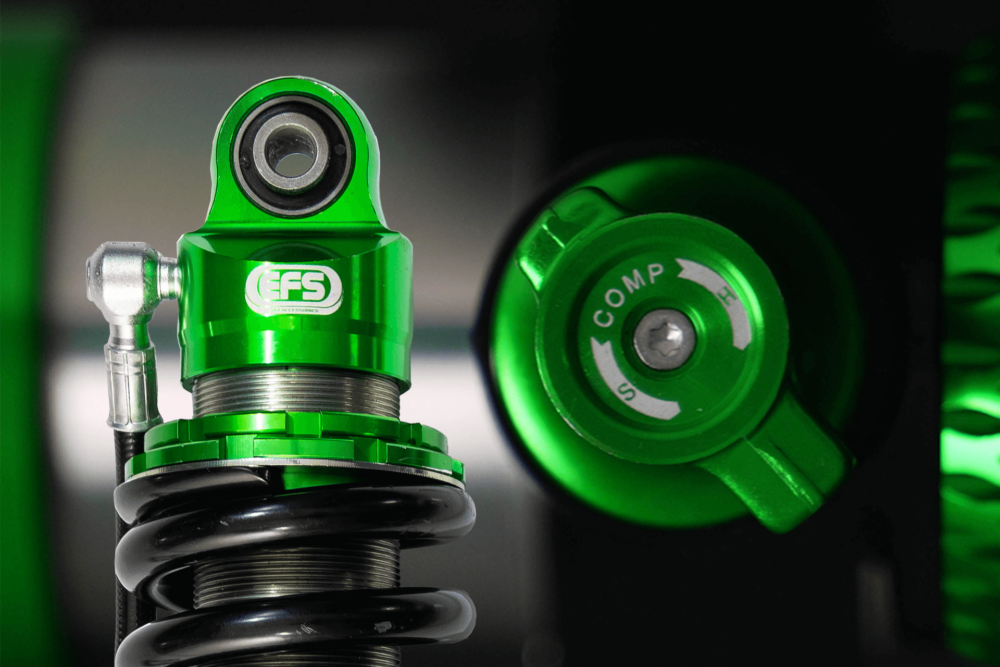 With the EFS Monotube Remote Performance (MRP) 2.5 you can now fully customise your ride to your needs to maximise comfort and performance in all types of terrain.
The new EFS MRP features a 2.5 inch bore with remote reservoir and featuring 24 compression and 36 rebound setting for precise control be it on road, off road, or towing applications.
The front struts come complete with coils.
We've installed these in our Ford Ranger PX2 and have been impressed with the ride quality and ability to fine tune the suspension to suit the load and road conditions.
Six great reasons to fit these EFS Monotubes to your 4WD
Adjustable Front Height - Lift or lower the front of your vehicle by adjusting the preload.
24 Compression Settings - Simply turn the dial to adjust the compression to your preference.
36 Rebound Options - Have precise rebound control of your shock absorbers.
Remote Reservoir - Heavily finned remote canister to ensure greater cooling.
Monotube Design - Provides the ability to run a larger piston for extra control.
Fully Serviceable - Able to be completely rebuilt, regassed and serviced.
Product Overview


Vehicles
These monotubes will be available for the following vehicles from around August 2023. Get in touch if you want to pre-order.
Ford Ranger PX1/2
Ford Ranger PX3
Ford Ranger Next Gen
Holden Colorado 2012 to date
Isuzu D-Max 2012-2020
Isuzu D-Max 2020 on
Mazda BT50 2011-2020
Mazda BT50 2020 on
Mitsubishi MQ 2015 to 2018
Mitsubishi MR 2018 on
Nissan GQ / GU 2" lift and 3-4" lift
Nissan Navara NP300 coil cab up to 2020
Nissan Navara NP300 coil cab 2020 on
Toyota Hilux 2005 to date (including Wide Track)
Toyota Land Cruiser 79/ 76 series 2" lift and 3-4" lift
Toyota Land Cruiser 200 Series KDSS
Toyota Land Cruiser Prado 150 series to date
Other Features
Teflon Coated Braided Hose to the remote canister when not piggybacked
Heavy duty rubber bonded bushes top and bottom
Seamless steel tube body honed for perfect sealing
Zinc-plated body built to last
Green anodized, CNC machined 6061-T6 billet aluminium
FUCHS Suspension Fluid for improved performance at all temps
Spring coil is 3″ diameter and vehicle specific. Spring rates with height adjustment
Heavy-duty, powdered steel floating piston + 6061-T6 hard anodized high flow aluminium piston
High-quality NOK seals – main seal, wiper seal, scraper seal
One year warranty
Fitment Note
Adjustable height front struts may require LVVTA Certification when fitted.
EFS Monotube Remote Res Suspension